CONTACT US:
303-939-8463.

Our mailing address is: 302 Pearl St, Boulder,
Colorado, 80302.
( SE corner of 3rd & Pearl )
Find us on the map!
SOLSTICE CENTER
is available
FOR PURCHASE
Entire Buiding
and Mgt Company
CLICK HERE
for more info


Sr | = Sky Room

Br | = Big Room

Lr | = Lotus Room

BSr | = Big Room and Skylight Room

BSLr | = Big Room, Skylight Room and Lotus Room


*(Pending) = A booking has been initially booked, but has not been formally contracted. Payment has yet to be made. We can take backups.
Note that Google Calendar lists am times with just the number and pm times with a 'p' after the time.

SEE ROOM CODES
IN LARGER TYPE
Also note that the primary times listed on the calendar are the times the rooms are booked, which includes setup and cleanup time— the actual event will generally start a bit later and end a bit earlier.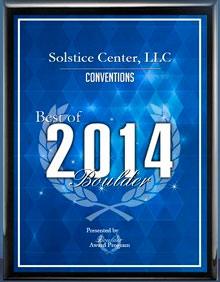 About Solstice Center/302 Pearl St. Studios
The Solstice Center has hosted workshops for years.
A hidden gem in the glitz of Boulder, the center is
within walking distance of both nature trails and
Boulder's Pearl Street Mall.
Today, the space is used by the community in Boulder - and increasingly, beyond - for healing, meditation, therapy, dance/yoga and gatherings of all types:
A place where people present their events and workshops to the Boulder community. Home to Boulder Ayurveda, Boulder Zen Meditation with Paul Gyodo, Golden Bowl Sangha, Mountain Stream Sangha, Hakomi Institute, Art of Living, Renaissance Adventures, and many other groups who enjoy using
our special facility.
Who Rents Space Here?
As well as the groups mentioned above,
the space is available for rent to the general public.
As we are located at the edge of a residential neighborhood, quiet, contemplative or moderately exuberant activities are what work the best.
Retreats, classes, workshops, lectures, fundraisers
etc are generally welcome.
Music concerts are inappropriate for the space.
We have three rooms that the general public can use- details below.
Policy regarding insurance: If you are renting for
Yoga, bodywork, dance, or other physical activity,
you must have insurance
and make Solstice Center, LLC an 'additional insured'.
Policy regarding Sexuality:
There shall be no nudity or sexual activity,
meaning one person contacting another person's breasts or genitals, with or without clothing.  
Hugging is of course ok.
The Skylight Room, aptly named with it's huge circular skylight,
measures 480 square feet (20.5' X 24.3').
It will comfortably fit about 15 people, depending on the activity. The east wall is mirrored, and the west wall sports large windows facing an enclosed patio.
A small stereo system is provided.
The Big Room is 1260 sq. feet and has a limit of about 62 people with chairs, 40 max with yoga mats, and 30 max with Feldenkrais mats.
(Dimensions: 28' X 45')
There is a wood stove/plants on the west side that take up 10.5 sq feet and 28 sq. feet used by the DJ station in the SE corner and a cabinet of 7 sq. feet in the SW corner). It has a beautiful sprung wood solar heated oak floor, and sports beautiful curtains and track lighting. Backjack and folding chairs as well as folding tables are available.
4 large and 9 medium-large cozy carpets can be used for seating as well.
A stereo system for general use is provided, and another more sophisticated system with a mixer that can handle microphones is available, with some training. We also have a digital projector that is available for an extra $20 rental.
The Lotus Room , formerly the old downstairs office, is smaller than the Skylight Room (Approx. 147 sq. feet) and is now a beautiful, open space, with lots of windows, shades and a curtain separating the room from the Stairway. It has new track lights, a Buddha image from Thailand on the West wall, and a metal Ganesh from India placed against the East wall. This room can fit up to 10 people comfortably and is especially suitable for quiet, meditative groups and gatherings. This is where Varadaan teaches Ayurveda classes.
The hallway between the Skylight Room and the Big Room has a beautiful skylight , designed and built according to the principles of sacred geometry by Peter MacGill. A small Kitchen separates the two rooms and is stocked with dishes, cups, a dishwasher, microwave and refrigerator, with plenty of space to wash up.
Room Availability
Please take a look at our on-line calendar for current events. Please contact the facility manager, to confirm any dates that you see available for rental.
Call the main business line at
303.939.8463 and leave a message.
You can also email your inquiries to solsticecenter(AT)mac.com.
If you would like, you can also view our lease on-line. Please note that you are required to have insurance if you are doing vigorous activity
(such as yoga or martial arts).
What Does it Cost? Rate increase for 2015
Current prices before 2015 rate increase: Weekends and after 5 on weekdays: The Big room starts at $38.50/hr; the Skylight and Lotus rooms start at $27.50/hr. Discounts apply for volume and non-premium time (before 5 pm on weekdays).
Contract arrangements: For one-time, i.e. non-repeating events: either payment in full, receive 5% discount if over $100; OR 1/2 contract in advance, leaving the remaining 1/2 due at time of workshop. Repeat events receive volume discounts.
Renting both Sky & Big Rooms: Big Room Rate + 1/2 Sky Room Rate. This is recommended if you need unusual quiet or privacy. Nonprofit discount, e.g. lines 7 or 8 on the rate schedule, requires approval of Varadaan and copy of 501c3 determination letter.
Lotus Room: no loud or messy events, meditation and healing are preferred in the Lotus Room.
Click here to see current prices.
Occasionally, the main office spaces come up for rent. Call or email for details.
History of the Solstice Center
The Solstice Center has had a colorful history in Boulder. Located at the beautifully situated Southeast corner of 3rd and Pearl in Boulder, the structure has been home to a variety of individuals and groups
in the past century.
Originally the residence of John Brierly near the site of his watermelon patch, the original historic structure was built in 1897. The building eventually became home to the Rolf Institute, who put down businees roots at 302 Pearl in 1977. Thus began the tradition of healing and group workshops still seen today. The Rolf institute bought the electrical shop ("Action Electric") to the south of the main building and connected the two pieces, installing the large round skylight
in the 'skylight room'.
Timeweave, a colorful non-profit that formed in the early 90's took ownership of the building for awhile and used it as a staging ground for their annual "New Renaissance Festival", dedicated to 'envisioning' (or, as they put it, "remembering" 'a positive future that worked for everyone'). The Solstice Institute emerged in 1995, a transitional partial owner of the building, dedicated to sustainability, cooperative housing, and joyous dance. The term 'Solstice' was selected by founder Varadaan since the Winter and Summer Solstices are both design parameters for sustainable solar architecture and are also important times of community gathering and celebration. The Institute, a 501c3 is still active with a major current project working against trafficking in India.
www.SolsticeInstitute.org
Starting around 2001 the building's legal structure changed to Solstice Center, LLC. This is when Jonathan Machen took the reins of Project Manager for a glorious 13 years, taking over from the late great Audrey Link, who went on to work with Native American peoples. After returning from India, Varadaan initiated the major remodel of the building, acting as lead architect in this 2007-2008 project which installed solar thermal radiant heating, passive solar features, structural improvements and a major aesthetic upgrade, including the garden.